Implacable. Así fue el andar de Golden State Warriors en el inicio de las finales de la Conferencia Oeste frente a Portland Trail Blazers . Después de sacarse de encima una serie durísima frente a Houston Rockets, el conjunto de Steve Kerr -pese a no tener al lesionado Kevin Durant- mostró su mejor cara y no tuvo mayores problemas ante Damian Lillard y compañía. Con un sólido juego colectivo, el bicampeón se impuso por 116-94 y tomó ventaja de 1-0 en la serie, que continuará el jueves en Oakland.
Stephen Curry fue la punta de lanza de la estructura de los de la Bahía, sumando 36 puntos, 9 triples (su récord en postemporada), 6 rebotes y 7 asistencias ; y estuvo bien acompañado por Klay Thompson , quien aportó 26 unidades .
¡Mira los Playoffs en NBA League Pass con 30% de descuento! Usa el código SAVE30. Da click para México y Argentina.
Primer cuarto: Warriors, en control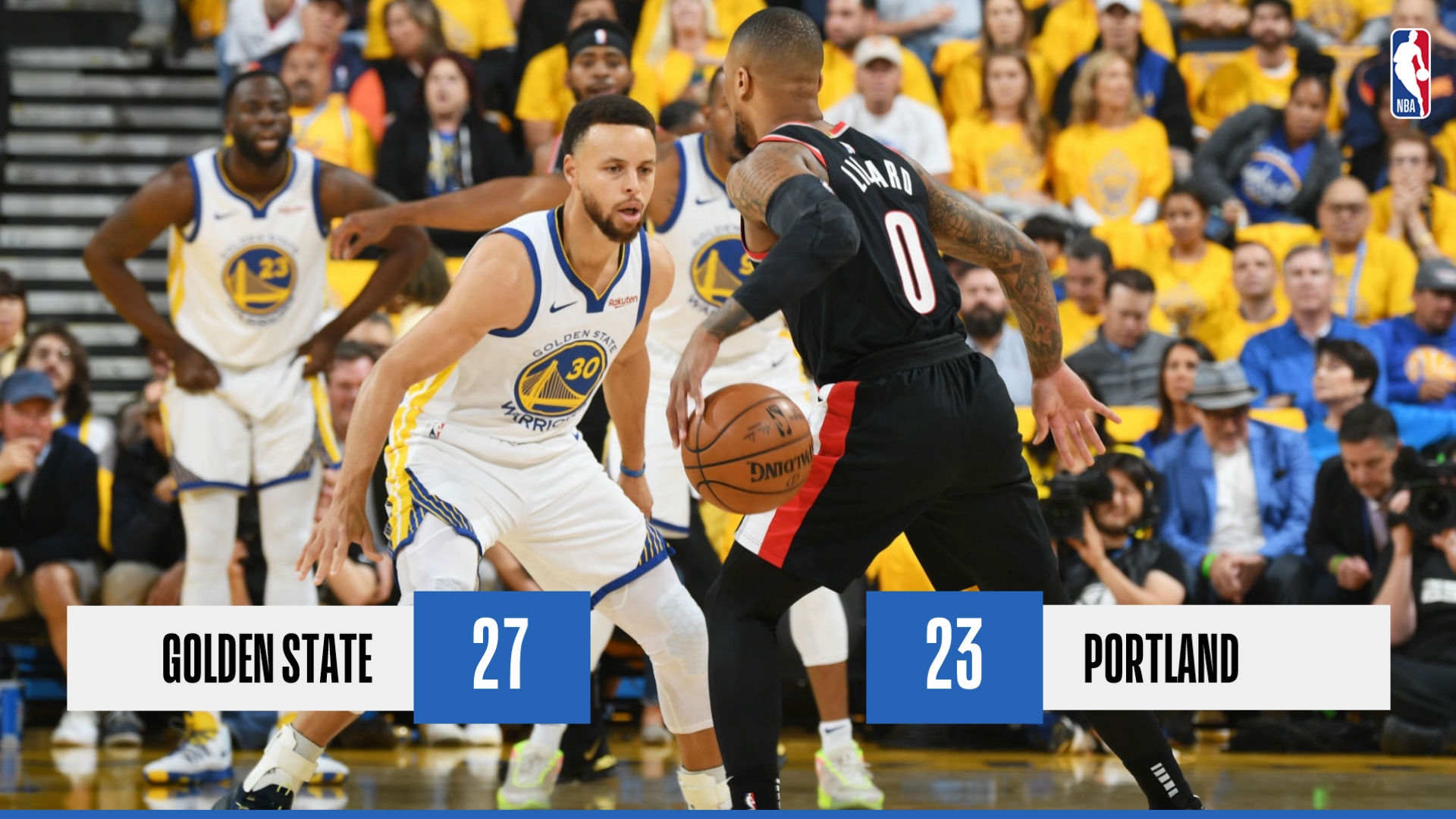 Sin brillar ni sacar grandes diferencias, Golden State comenzó mejor haciendo gala de su receta ideal: imponer su defensa, encontrar chances para correr la cancha y circular mucho el balón . Tanto que 9 de sus 11 conversiones llegaron después de asistencias. Curry estuvo por demás activo (8 puntos, 3 rebotes y 2 asistencias) , y el banco trajo respuestas rápidas (7 tantos). Pero si Portland se mantuvo cerca (27-23) fue porque las pérdidas de los locales volvieron a ser altas (5)
#SPLASH 💦

📺 @espn pic.twitter.com/ARAIlSxfgc

- Golden State Warriors (@warriors) May 15, 2019
Segundo cuarto: Defensa, triples y Steph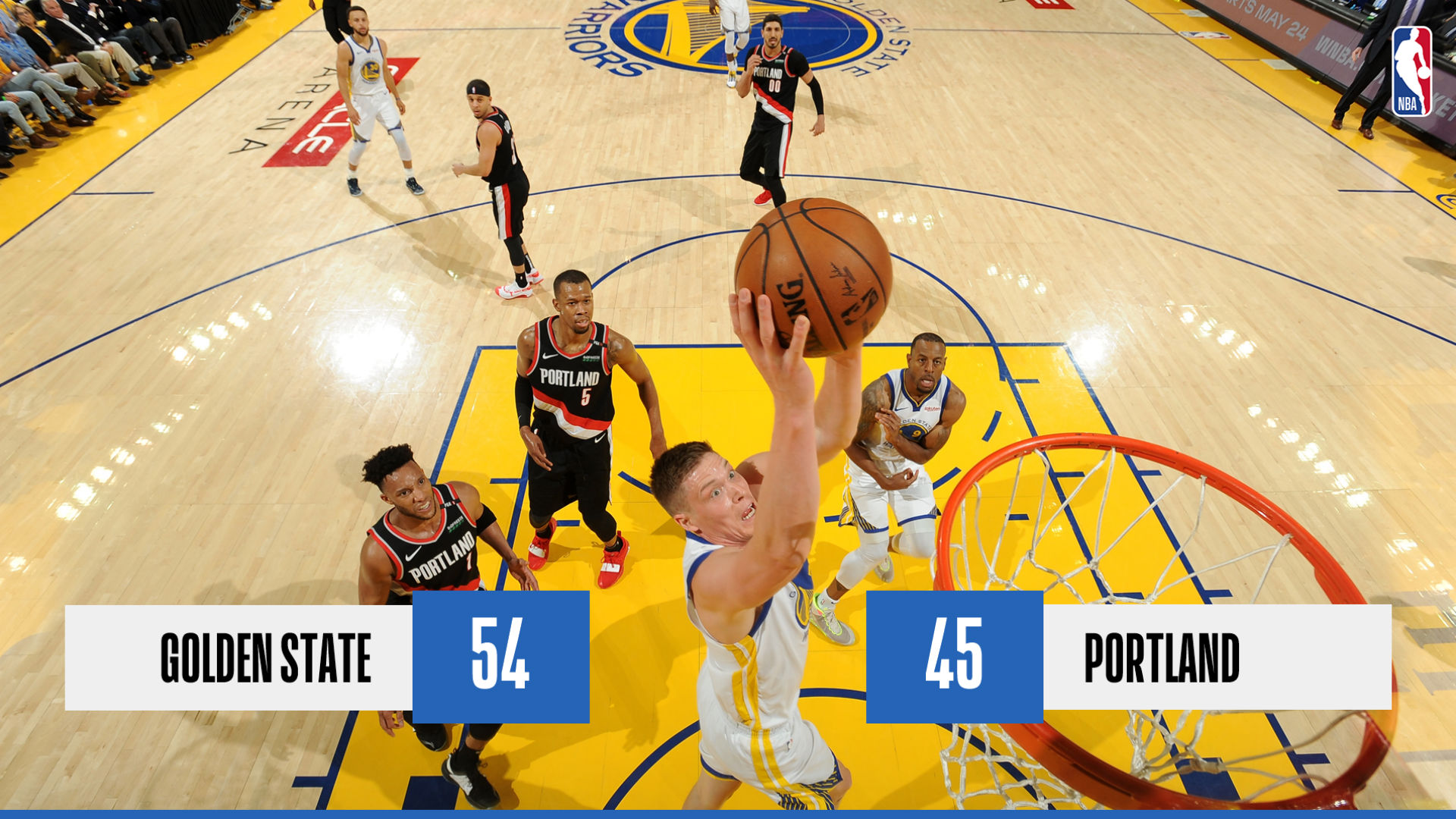 La defensa de Golden State empezó a dañar por completo a unos Blazers que no lograron entrar en tirmo. Tanto que, en casi 8 minutos del segundo cuarto, la visita apenas llevaba 3-17 de campo en el parcial.
Steph Curry headed back to the locker room during the 2nd quarter of Game 1 of the WCF. pic.twitter.com/XbuKZUC1MJ

- ESPN (@espn) May 15, 2019
Tras pasar el susto de ver a Curry irse rumbo al vestuario (aparente dolor en la rodilla derecha), los Warriors hicieron negocio: intentaron levantar el ritmo en transición (20 puntos tras 13 pérdidas en el primer tiempo) y encontraron varias respuestas, como Thompson y hasta un gran ingreso de Jonas Jerebko (7 tantos) que le dieron una ventaja de 10 (44-34) . Y cuando Portland intentó una reacción (se acercó a 3), dos triples de un fenomenal Steph Curry (19 puntos) le dieron aire a los locales , que lanzaron 5-8 a distancia en el segundo cuarto.
Steph Curry from distance on consecutive possessions! 🔥🔥 #StrengthInNumbers #NBAPlayoffs @ESPNNBA pic.twitter.com/0BasjeRLtI

- NBA (@NBA) May 15, 2019
Tercer cuarto: Show de Steph, pero Portland al acecho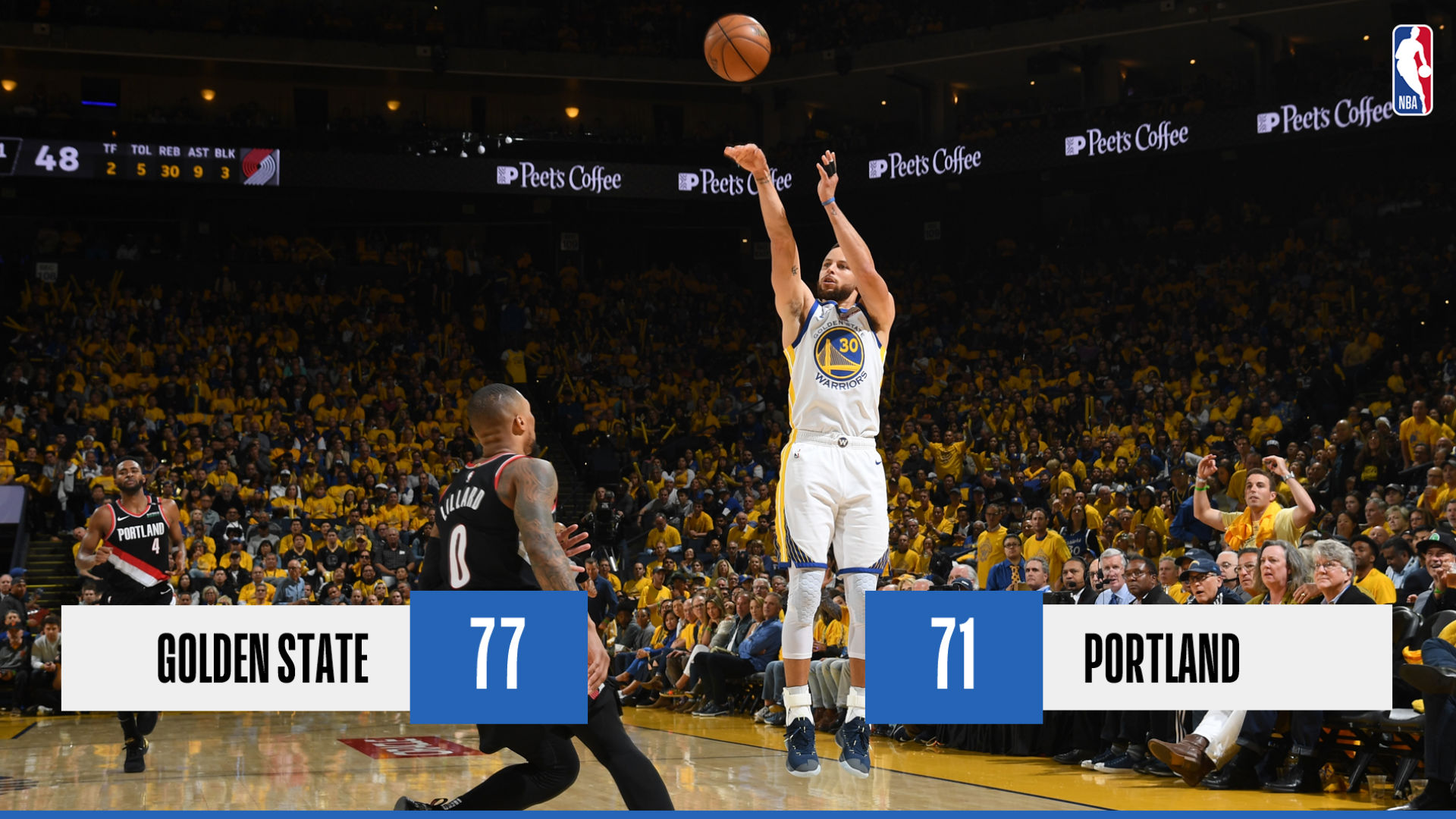 Lejos de ajustar, Portland volvió desconectado del vestuario, y sus cuatro rápidas pérdidas fueron la muestra gráfica . Y claro, Golden State vio sangre dando vueltas y saltó a comerse al rival como si fuera un tiburón. ¿La manera? Curry en modo MVP. El base anotó tres nuevos triples que estiraron la diferencia a 17 (67-50) .
That's 7 threes for 30.

but who's counting? ¯\_(ツ)_/¯ https://t.co/eB2LaGwZ47 pic.twitter.com/otDnq9Zcmx

- Golden State Warriors (@warriors) May 15, 2019
Y, cómo si fuera poco para la visita, Damian Lillard empezó a sentir dolor en el muslo derecho.
Something to watch: Lillard grabbing at hamstring #ripcity pic.twitter.com/neTKh8szNY

- NBC Sports Northwest (@NBCSNorthwest) May 15, 2019
Pero claro, los Warriors repitieron un problema: descuidarse y perder el foco por un rato. Así fue que un luchardor Portland estampó un parcial de 21-10 (tres triples y un muy activo McCollum) para acercarse a sólo 6 .
Último cuarto: Klay con la estocada final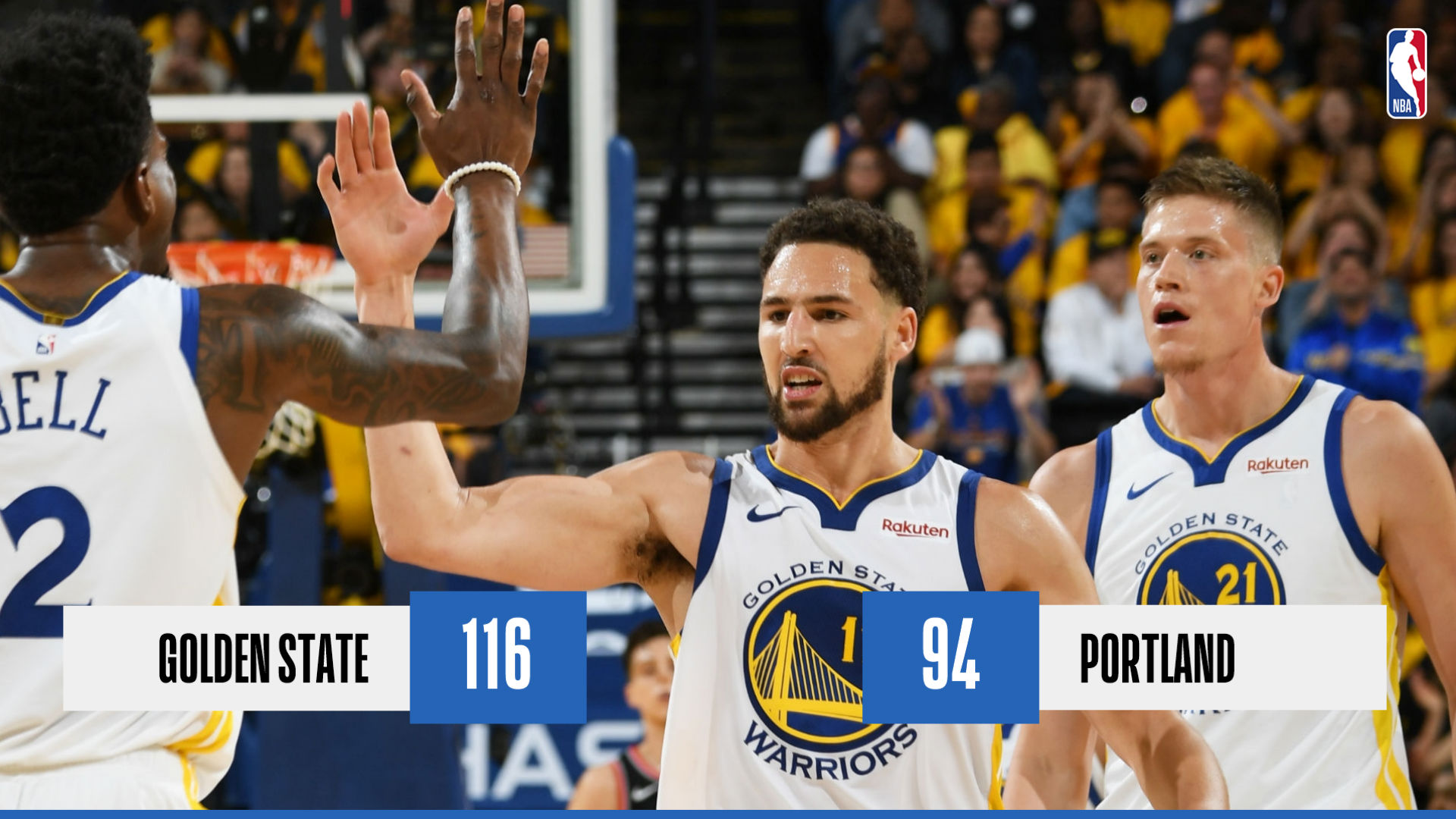 Las posibles dudas se alejaron rápido para los de Steve Kerr: dos triples de Quinn Cook desde el banco y otro de Thompson lo volvieron a alejar de los visitantes (90-79) a poco más de 8 minutos para el final.
🚨 KLAY DUNK ALERT 🚨 pic.twitter.com/jY6mx0L7UY

- Golden State Warriors (@warriors) May 15, 2019
Y desde ahí ya no hubo vuelta atrás, incluso sin la necesidad del mejor Curry en el cierre. El que tomó la posta fue Klay, quien siguió sumando y liquidó la historia con 13 de sus 26 puntos en el periodo final . Los Blazers hicieron su parte: cometieron 21 pérdidas (que le dieron 31 puntos al local), un contraste enorme con las 4 del Juego 7 de las Semifinales frente a Denver.