El triple de Anthony Davis en la última jugada del partido entre Los Angeles Lakers y Denver Nuggets que le dio el triunfo por 105-103 a los de California quedará como uno de los momentos más recordados de estos atípicos y apasionantes Playoffs 2020 de la NBA y no solamente hizo vibrar a los fanáticos de la liga: también varios nombres rutilantes, más que nada asociados a Los Angeles Lakers como Magic Johnson y James Worthy, reaccionaron en sus cuentas de Twitter ante semejante acción.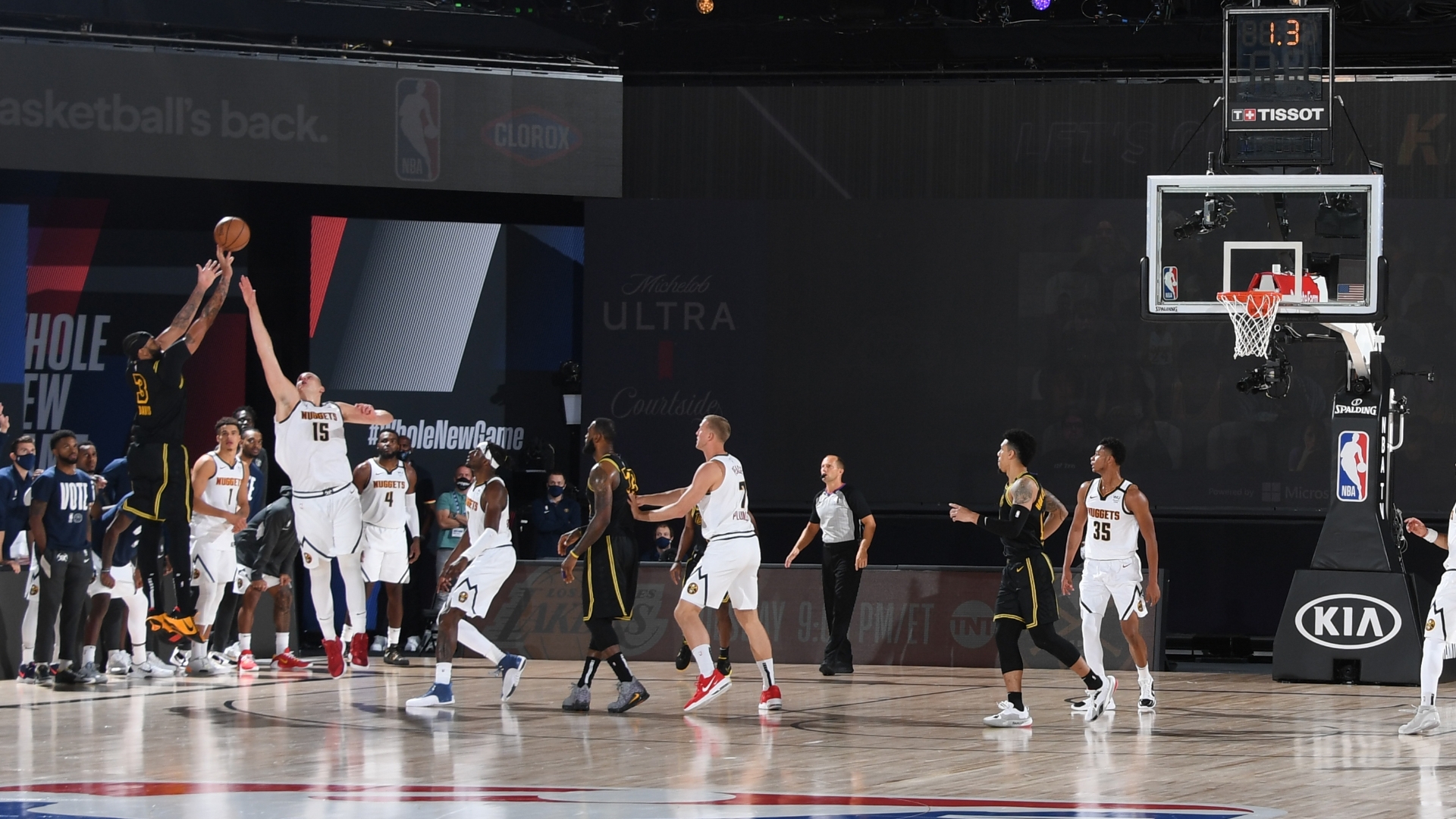 ANTHONY DAVIS AT THE BUZZER! 🚨 pic.twitter.com/GSP2XURspk

- NBA TV (@NBATV) September 21, 2020
Earvin "Magic" Johnson, todo un mito viviente de los Lakers que fue jugador, entrenador y directivo de la franquicia, primero reaccionó con un "Oh Dios Mío", antes de celebrar a Davis por estar dominando la serie en su estreno en unas finales de conferencia y de remarcar que los Lakers hicieron una jugada perfecta por la que hay que felicitar al entrenador Vogel, debido a que se notó que era una jugada ensayada.
OH MY GOD

- Earvin Magic Johnson (@MagicJohnson) September 21, 2020
For this to be AD's first time in the Western Conference Finals he has dominated in the first two games!! He finished 31 points, 10 in the all-important 4th quarter.

- Earvin Magic Johnson (@MagicJohnson) September 21, 2020
The @Lakers ran the out-of-bounds play to perfection to get AD the 3-point shot. Coach Vogel deserves a lot of credit because the Lakers didn't have a time out so you know they've been practicing that play!

- Earvin Magic Johnson (@MagicJohnson) September 21, 2020
Otro MVP de las Finales con el uniforme de los Lakers, James Worthy, escribió que con esta jugada Davis demostró su valor para los Lakers durante toda la temporada.
.@AntDavis23 has displayed all season his value to the #lakers with his step back game winning 3 pointer against the #Nuggets in game 2 . #blackmamba

- James Worthy (@JamesWorthy42) September 21, 2020
"Él es diferente" puso LeBron James, citando el video del triple heroico de su compañero.
HE DIFFERENT!!!! @AntDavis23 You Silly!! 🤣🤣🤣🤣🤣 https://t.co/w7WrjAre2Z

- LeBron James (@KingJames) September 21, 2020
Jared Dudley, otro compañero de Davis, se refirió a que AD tiene los genes del clutch de Kobe Bryant.
Clutch Gene!!! @AntDavis23 🐍 https://t.co/Sk6xlbvCA9

- Jared Dudley (@JaredDudley619) September 21, 2020
También reaccionó pensando en Kobe otro ex Laker como Cedric Ceballos.
#KOBE .........

- Cedric Ceballos (@cedceballos) September 21, 2020
Donovan Mitchell, uno de los jugadores que más impresionó durante estos Playoffs 2020, se quedó sin palabras: "Wow". Y Kevin Love, campeón con LeBron James en Cleveland Cavaliers en 2016, expresó su favoritismo por los Lakers en esta serie.
Wow!!!!!! pic.twitter.com/KMuYyZu1ip

- Donovan Mitchell (@spidadmitchell) September 21, 2020
Lakers in 3

- Kevin Love (@kevinlove) September 21, 2020
"Sheesh AD, eso es difícil", tuiteó un gran tirador como CJ McCollum.
Sheesh AD . That's tough

- CJ McCollum (@CJMcCollum) September 21, 2020
Para Jamal Crawford, el tiro de Davis le puso un sello al resultado de la serie, mientras que Baron Davis, además de elogiar a Davis y a la decisión de Vogel, criticó a Denver por como defendieron Mason Plumlee y Jerami Grant al anotador.
That's the series..

- 🏁 Jamal Crawford (@JCrossover) September 21, 2020
Lakers!!! ADDDDDD!! Davis Boyzzzzzzz!!! Game!! Blouses!!! Bad sub Denver. Good call Vogel. AD cold 🥶.. grant should have switched. Plumlee called switch. Can't let AD get open 🤦🏾‍♂️ ...

- Baron Davis (@BaronDavis) September 21, 2020
Las opiniones aquí expresadas no reflejan necesariamente aquellas de la NBA o sus organizaciones.