LeBron James y Anthony Davis tuvieron un gran despliegue anotador combinándose para 70 puntos y que Los Angeles Lakers se llevaran la victoria por 136-113 en contra de los Portland Trail Blazers. Los púrpura y oro alargaron a 11 partidos invictos fuera de casa.
'03 til infinity 💜💛♥️ pic.twitter.com/IwKNv9heVv

- Los Angeles Lakers (@Lakers) December 7, 2019
Las dos estrellas de los angelinos fueron imparables, pero lo que hizo El Uniceja fue magnífico al irse con 12 de 21 en lanzamientos de campo. "Es una bestia", expresó Frank Vogel al término del juego.
The Lakers dropped 136 points at Portland, their most in a regulation game since 1990 in their most in a regulation road game since 1988. #LakeShowhttps://t.co/CkFywgeFHo pic.twitter.com/RzAqVDFuh7

- StatMuse (@statmuse) December 7, 2019
Frank Vogel was asked about AD's energy tonight: "He's just a beast." He added that LeBron and AD's clearly excellent chemistry and cohesion has trickled down to the whole team.

- Mike Trudell (@LakersReporter) December 7, 2019
Davis y LeBron, indefendibles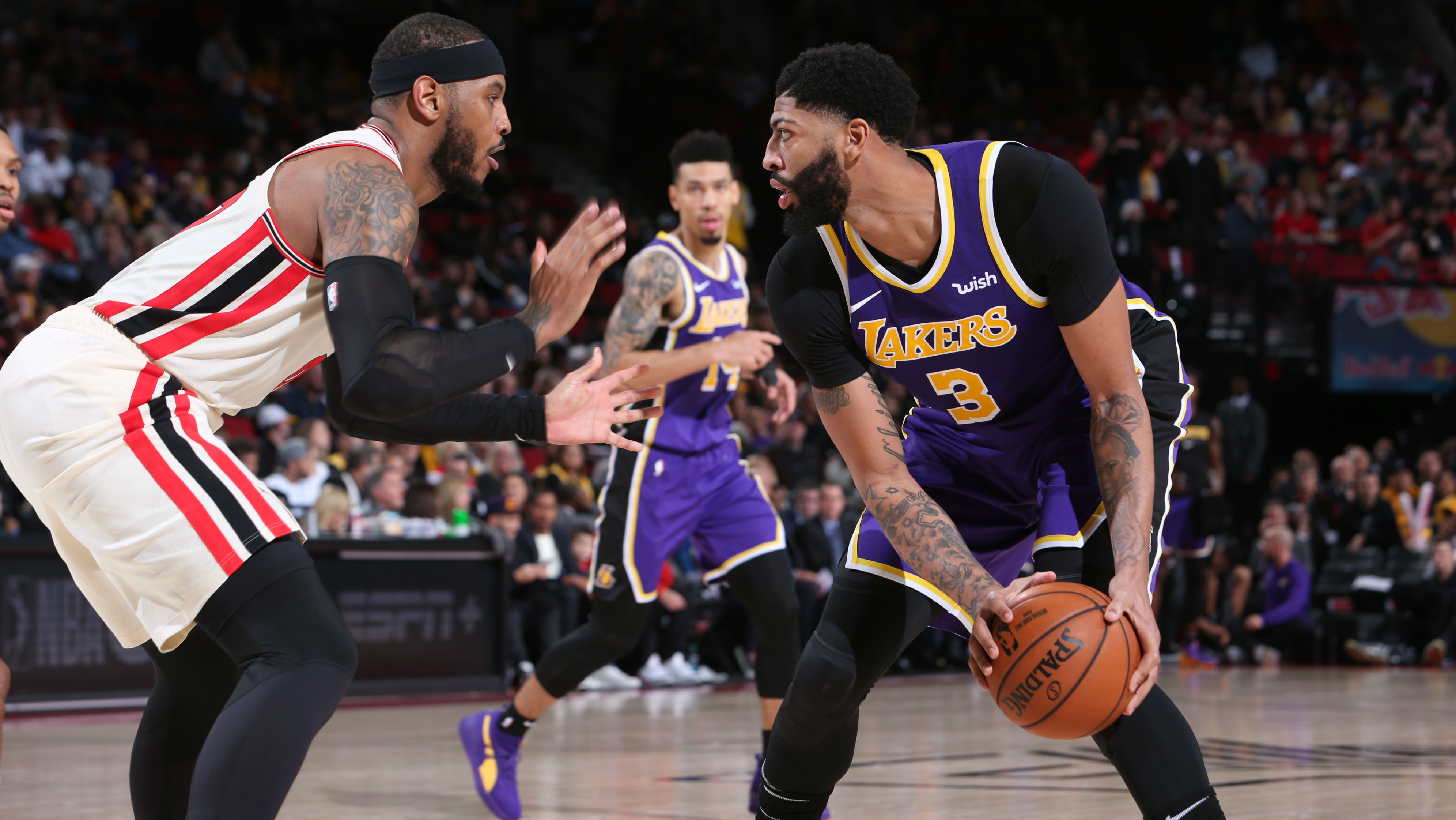 El comienzo fue muy parejo. El duelo entre Carmelo Anthony y James fue un condimento especial. Inmediatamente Melo empezó a tomar varios tiros y se fue 3 de 5 en lanzamientos de campo para el primer cuarto para un total de 8 puntos.
Los Lakers cerraron bien el periodo con triples anotados por Kentavious Caldwell-Pope, Troy Daniels y Kyle Kuzma, más lo que Anthony Davis hizo al meter 15 tantos en 5 de 6 en lanzamientos de campo y manteniendo un alto porcentaje de todo el equipo.
Para el segundo cuarto, LeBron James tomó el timón de los angelinos y continuó la buen labor de El Uniceja. Y añadieron 6 lanzamientos detrás del arco de Alex Caruso, Davis, Kuzma, LeBron y dos de Rajon Rondo.
La ventaja a favor de los púrpura entraron con una ventaja manejable al tercer cuarto. Y el show de Anthony siguió con 14 tantos más en ese periodo para llegar al último periodo arriba. A pesar del intento de Damian Lillard, Carmelo y CJ McCollum de regresar al duelo, los Lakers no lo permitieron.
El porcentaje de campo de los angelinos fue magnífico al tener un alto 54,1% y 47,2% detrás del arco, un número también muy bueno que les permitió ganar cómodamente.
Win No. 2️⃣0️⃣ in the bag. Time to go back to LA 💜💛 #LakeShow pic.twitter.com/VIAizKRHwx

- Los Angeles Lakers (@Lakers) December 7, 2019
Anthony Davis terminó con 39 puntos, 9 rebotes, 3 tapas, 2 asistencias y 2 robos, escoltado por LeBron James con 31 tantos, 8 asistencias y 7 tablas.
Wait for it... pic.twitter.com/JJO4OI9ayZ

- Los Angeles Lakers (@Lakers) December 7, 2019
Por los Blazers, Damian Lillard totalizó 29 unidades, 8 asistencias y 7 rebotes, seguido por Hassan Whiteside con doble-doble de 17 puntos y 10 tablas.
Siguientes enfrentamientos:
Blazers vs. Thunder - 8/dic
Lakers vs. Timberwolves - 8/dic